Brain Injuries: the Silent Killer
According to the CDC, over 50,000 people die from traumatic brain injuries each year in the United States. Some traumatic brain injuries are considered "mild" and others are considered "severe." Symptoms may or not be present immediately after the injury and often the injured victim is not in the right mind frame to make the best choices. After a traumatic brain injury, a lot of people want to sleep which is one of the worst things you can do because it makes it difficult to monitor symptoms.
The Case of Joshua Krantz
This was the case earlier this month when 24 year old Joshua Krantz was allegedly assaulted at The Page in Portsmouth, New Hampshire. A spilled drink is believed to be the cause of the incident, allegedly inciting 24 year old Zachary O'Neill to allegedly bash Krantz in the head. Unbeknownst to Krantz, he had suffered a traumatic brain injury, a skull fracture and a acute epidural hematoma. He refused treatment at the scene and was later found dead in his Dover apartment a few hours later. He reported to friends that he had a headache and tried to cover his head with his jacket but those were the only hints of the brain injury he sustained. Joshua wanted to go home and sleep and it was there that he was found dead.
Zachary O'Neill was arrested this week and charged with first-degree assault. As it appears that he allegedly intentionally assaulted Krantz, this would be a criminal case. The question is whether or not Krantz and his family would be able to sue in a civil case. With only knowing limited facts, as reported in the news, here are a few possible outcomes.
Avenues of Civil Recovery
When an accident occurs, it is a "tort" claim and most insurance companies provide general liability policies for this purpose. However, insurance companies do not cover an "intentional tort" which means the only civil avenue of recovery for this alleged assault would be Zachary O'Neill's personal assets. As he is only 24 years old, any recovery from a tort civil suit would be quite limited. Additionally, the family could file a wrongful death claim but recovery would be limited to Zachary O'Neill's assets.
There are two additional possible avenues of recovery but it would strongly depend on all the facts, which are currently not available. The Page could be liable in two instances. First, according to the arrest warrant, an employee of the Page reported to police that O'Neill had stated that he had waited until the bar was closing to hit Krantz because "he didn't want to ruin his night." Some news reports indicate that earlier in the evening Krantz had accidentally spilled a drink on O'Neill and other reports indicate that it was a completely random and unprovoked attack. Assuming there had been an altercation earlier in the evening, then the Page could be held liable for failing to maintain a safe environment for its patrons. O'Neill, who is allegedly known for having been charged in other bar fights and altercations, should have been escorted from the premises. After the alleged assault, O'Neill was escorted from the premises and the bar staff did attempt to render medical assistance to Krantz. They are not required to report assaults to the police. Unless it can be proved that the staff knew or should have known about the pilled drink and/or O'Neill's alleged prior violent propensities, it is unlikely that one could prove that the Page was liable in this instance.
The final avenue of recovery would be a Dram Shop Case. If O'Neill was over-served or excessively drunk prior to the assault on Krantz then the bar could be liable for a Dram Shop Claim. In New Hampshire, per RSA 507-F:5, it is "reckless service of alcoholic beverages" when a server knows or should have reasonably known that such service would create an unreasonable risk of physical harm to the drinker or to others but served the alcoholic beverage(s) anyways. Per RSA 507-F:4, it is considered "negligent service of alcoholic beverages" when alcohol is served to a minor or to an intoxicated person. If a server provides alcohol to a visibly intoxicated person, this would constitute negligence. The New Hampshire State Liquor Commission characterizes visual signs of intoxication to include any of the following: the odor of alcohol, a patron who stumbles, falls, stagers, is excessively loud, has bloodshot eyes, slurred speech, appears disheveled, has a loss of coordination, impaired judgment, and uses excessive foul language. If the facts proved that this was the case then the family could file a civil case against the Page.
Conclusion
If you or a loved one has suffered or died from a traumatic brain injury, you should contact a Brain Injury Attorney who can help you determine the facts and the various avenues of recovery in your or your loved one's case. Our firm represents both victims of brain injuries and their families. Our website lists specific resources and programs to assist those suffering from a brain injury and for their family members. Additionally, our attorneys are very experienced handling brain injury claims and our firm is a member of the National Brain Injury Trial Lawyers Association.
For a free consultation please call (603) 883-4100 or fill out the form on the right.
Links & More Information
Client Reviews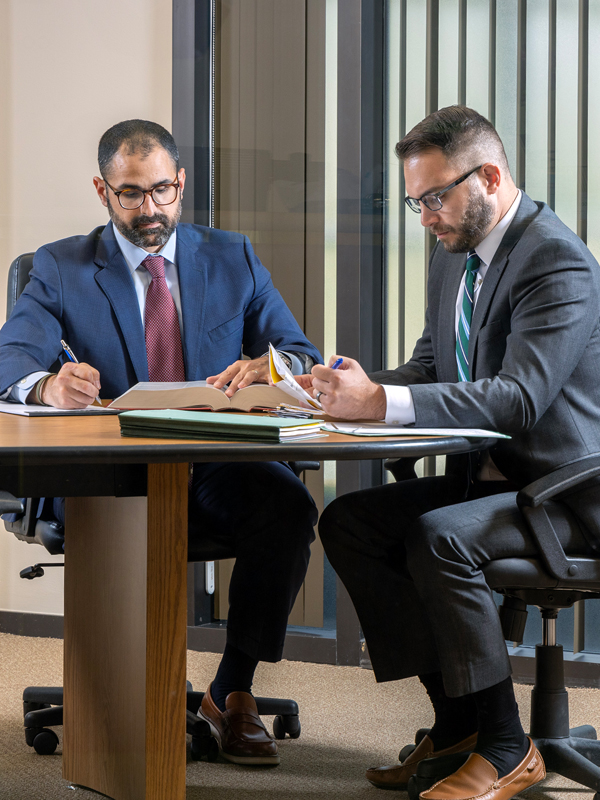 Contact Us
Fill out the form or call us at (603) 883-4100 to schedule your free consultation.