Nashua Personal Injury Lawyers
Mission Statement
The Granite Law Group is an elite team of Nashua Personal Injury Lawyers specializing in all types of personal injury cases, including, car accidents, truck accidents, motorcycle accidents, medical malpractice, wrongful death, catastrophic injury, dog bites, and products liability.
The mission statement of our firm is "devastating losses call for exceptional litigators." To that end, we have built a reputation of being the go-to Personal Injury Lawyers in Nashua and one of the premier personal injury law firms in New Hampshire. Our firm is capable of successfully handling high-stakes litigation cases with catastrophic injuries. We earned that reputation by obtaining life-changing results for our clients. Most firms can't make that statement.
Our firm is also designed to handle all types of personal injury cases, regardless of their size or complexity. In many circumstances, our results far exceed those of our peers.
Empathize
Clients come to our team of Nashua Personal Injury Lawyers during one of the most arduous times in their lives. They are in pain, they are suffering, and their future is filled with uncertainty. Some of the questions we hear are: "What's going to happen if I don't get better? How am I going to pay for all these medical bills? What am I going to do for money if I can't go back to work?"
To make matters worse, these people are up against dauntingly formidable opponents: massive insurance companies whose purpose is to pay them as little as they can get away with. Large hospitals who go on the defensive once they are accused of making mistakes. And intimidating defense attorneys whose goal is to make you feel guilty for seeking justice. 
These clients need a legal team in their corner that has their back. A team of zealous advocates ready to champion their cause. A team of savvy practitioners who have maneuvered through the legal system countless times before. A team of empathetic supporters who understand their struggles and will listen to their story. If that describes your situation, look no further.
The following is an informative overview of some of the cases our Nashua Personal Injury Lawyers specialize in:
Vehicular accident cases require an intricate understanding of insurance coverage. Oftentimes, car accident and motorcycle accident cases are limited to the available bodily injury (BI) coverage on the vehicle that caused the collision. Most people are under the impression that the individual that caused the collision should cover the claimant's property damage and medical bills out of the gate. While that is logical, it is not the case. The claimant's property damage is covered by their own collision coverage which is reimbursed behind the scenes by the BI carrier in a process called subrogation. The claimant's medical bills are paid by their own Medpay coverage (if available) and their own health insurance (if available).
Health insurance may have a lien which must be reimbursed if there's a settlement. Public health insurance, such as Medicare or Medicaid, have an automatic lien on the potential settlement. Private health insurance may assert a lien on a potential settlement. In either case, the lien is for the "adjusted down" rate of what they spent to cover the medical bills. Under the "Collateral Source Rule," the BI must credit the claimant for the gross amount of the bills; not just the lien. Cyr v. J.I. Case Co., 139 NH 193 (1994). In other words, the claimant gets the benefit of the gross amount of the bills minus the lien.
The BI coverage only comes into play when the claimant is ready to settle their case. Sometimes the BI policy is not enough. Under those circumstances, the attorney can tap into the claimant's underinsured motorist (UM) coverage. The attorney must have an intricate understanding of UM insurance to maximize recovery.
In truck accident cases, we typically see commercial policies that have $1,000,000 in coverage. Our team of Personal Injury Lawyers in Nashua are very comfortable dealing with these numbers.
Medical malpractice occurs when the patient's physician, or other medical professional, "deviates from the standard of care." The legal definition of standard of care refers to "the degree of care or competence that one is expected to exercise in a particular circumstances or role." A physician deviates from the standard of care when his actions fall below what is expected of the average physician in that specialty. For the deviation to be actionable, it must be "causally related" to the patient's injury.  A favorable medical outcome is not guaranteed. The mere fact that a patient has a poor result does not constitute medical malpractice.
Wrongful death occurs when an individual dies because of someone else's negligence. Under those circumstances, the decedent's estate has an actionable claim against the negligent party. Close family members, such as a surviving spouse or minor children, also have claims for loss of consortium, or loss of a familial relationship. Wrongful death is an umbrella term that may involve an underlying claim of medical malpractice, products liability, or a simple automobile collision that results in a fatality.
Catastrophic injury is a term of art used within the legal practice and the insurance industry. It refers to a permanent injury that is so horrific that the victim will require ongoing care and treatment for the rest of their life. These are typically high value cases that require expert witnesses in life care planning and economics. The insurance industry considers these "high risk" cases that have the potential for a "nuclear" verdict. The stakes are always high in a catastrophic injury case.
It is crucial to understand that many attorneys are not able to competently work up medical malpractice, wrongful death, and catastrophic injury cases. They do not take the time to "learn the medicine," they do not know how to find experts who are renowned in their field, and they do not have the capital reserves to fund one of these cases.
Most importantly, they view a serious case as an opportunity for them instead of a responsibility to the client.
Difference Maker
The Granite Law Group is a full-service law firm composed of rock-solid trial attorneys and a team of dedicated support staff. We have decades of battle-tested trial experience first gained from serving as a prosecutor in the Brooklyn District Attorney's Office in New York City and later cultivated in civil courtrooms throughout New Hampshire and Massachusetts. Our recognition as "New England Super Lawyers" from 2017-2023 is a testament to the depth of our body of work.
The lawyer you select may very well affect the rest of your life. Therefore, we encourage you to watch Attorney Joseph Russo, Granite Law Group founder and managing partner, explain our firm's approach to these serious matters in our short video "The Art of the Case".
Some large firms are headquartered far outside New England and do not even maintain a fully operational firm in New Hampshire. Not us. Since 2011, we have laid deep roots in Nashua, NH and all along the Route 3 corridor. We are strategically located on the New Hampshire/Massachusetts border which allows us to loyally represent clients in both states.
If you don't pursue justice, you will never receive it. Call us for a free consultation. There is no fee unless we win. As we like to say in New Hampshire "no fee or die."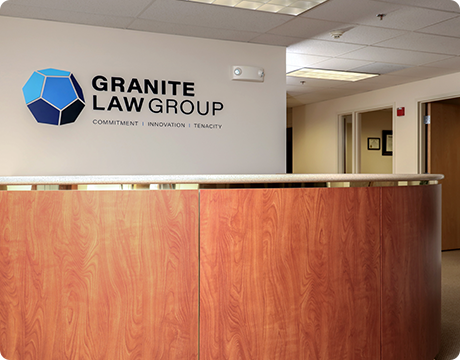 Our Results
$5,500,000
A female pedestrian was run over by a truck.
$3,450,000
A female driver was caused to strike.
$1,800,000
Vehicle crash with conscious pain.
$1,750,000
The case involved severe vascular injuries.
See What Our Clients Are Saying
The Art of the Case
Have you ever wondered what separates mediocre attorneys from elite attorneys? This video will explain the difference. Filing a personal injury claim is an adversarial process. You are going up against an insurance adjuster and defense attorney whose main goal is to pay you as little as they can get away with.
New Hampshire Injury & Accident Attorney Blog
Our Location
Nashua Office
61 Spit Brook Rd #101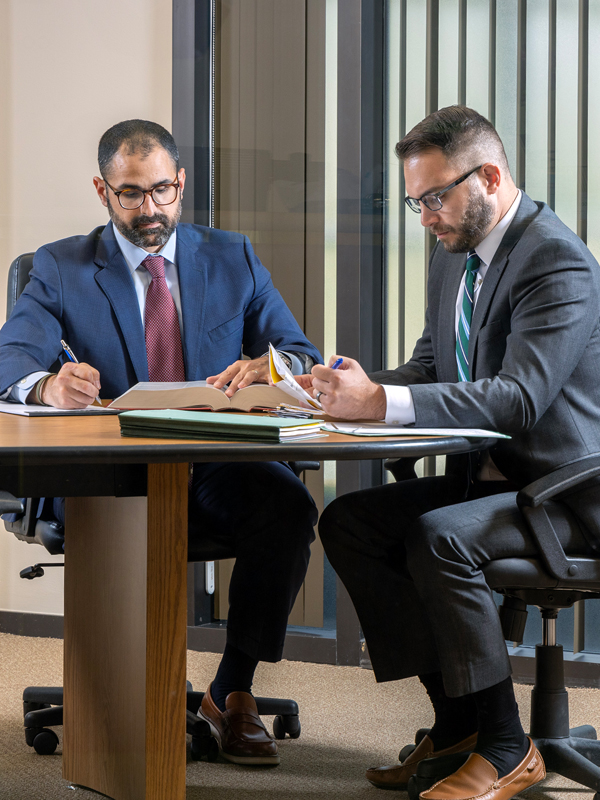 Contact Us
Fill out the form or call us at (603) 883-4100 to schedule your free consultation.