Personal Injury Lawsuit Checklist for 2023
Have you suffered a catastrophic injury? A catastrophic injury is a type of physical or psychological injury that is serious and debilitating, often resulting in permanent impairment or disability. These types of injuries are generally the result of severe trauma to the body, such as a car accident, fall, or work-related incident. Catastrophic injuries typically cause severe and long-lasting physical, emotional, and financial effects, making them some of the most difficult and traumatic experiences that a person can face.
If this sounds like something you have experienced, you should be considering filing a personal injury lawsuit in 2023. It's essential to be prepared with all the necessary steps to ensure your case is successful. Working with a Granite Law Group personal injury lawyer can help you understand the process and ensure you have taken all the required steps to get the best possible outcome for your claim. To help you get started, Granite Law Group has carefully crafted a comprehensive checklist of items to consider when filing a personal injury lawsuit.
Step #1: Know the Statute of Limitations
Regarding personal injury law in New Hampshire, it is crucial to know the statute of limitations. The statute of limitations sets a specific time period for a person to file a lawsuit and seek damages for a personal injury claim. Generally, the statute of limitations for filing a personal injury lawsuit in New Hampshire is three years from the date of the injury or when the injury was discovered. If you do not file a lawsuit within three years of the injury or when it was discovered, you may be barred from filing a claim and receiving compensation for your injuries. Therefore, knowing the statute of limitations for personal injury claims in New Hampshire is vital before filing a lawsuit.
Step #2: Gather All Relevant Documentation
When preparing a successful personal injury law case, having the right documents can make all the difference. Not having proper documentation can make or break your case. It's important to compile as much evidence as possible to support your claim and prove that another party is at fault. This may include medical records, police reports, photos of the accident scene, eyewitness accounts, and any other supporting evidence. Make sure that you keep copies of all of your documents in an organized manner so that they are easy to reference when needed. Having all of this information in one place will make it easier for your attorney to present a strong argument when representing you in your personal injury law case. You should also make sure to document your damages and any financial losses you may have suffered as a result of the incident, like medical bills and lost wages. A Granite Law Group personal injury attorney will help you gather the necessary documentation related to your injury. Having all the relevant documents ensures that your personal injury case is as strong as possible.
Step #3: Work with an Experienced Attorney
If you believe you have a personal injury case, it is important to speak with an experienced attorney as soon as possible. Our attorneys will be able to review all documentation pertaining to your claim and advise you on the best course of action. Granite Law Group will review all relevant documents to the case and provide a professional opinion on whether there is enough evidence for a successful claim. If it is determined that there is a valid claim, the attorney can offer guidance and support throughout the process. Additionally, the attorney can assist with filing paperwork, negotiating a settlement, and representing the client in court.
It is important to keep in mind that not all attorneys are created equal, so it is important to work with a firm that specializes in personal injury law. At Granite Law Group, we focus on personal injury law and medical malpractice lawsuits. We pride ourselves on being knowledgeable and trustworthy in all aspects of client relations. By speaking with one of our experienced attorneys, we can determine if you have a viable personal injury case, and you will better understand the legal process. With the proper representation, you can ensure that your case is handled efficiently and that all necessary steps are taken to maximize your potential compensation.
Step #4: Be Prepared to Go to Court
If a settlement is not reached between you and the liable party, taking the case to court may be necessary. The process of going to court for a personal injury case can vary depending on the specific situation but typically includes filing documents with the court, responding to requests from the other party, and presenting evidence and witnesses in court.
Before appearing in court, it is crucial to be well-prepared. At Granite Law Group, we take all the evidence we collected, such as medical reports, police reports, and witness statements, to use as evidence to fight your case. Next, we prepare for cross-examination of witnesses by ensuring we know the facts of your case inside and out. It is also essential to be aware of the deadlines associated with filing paperwork and serving documents — Your Granite Lawyer will be on top of this from start to finish!
Once all paperwork is filed, a date will be set for the trial. On the day of the trial, our attorneys bring any relevant documents that the judge or jury may need to see. During the trial, both sides will make their case and present evidence and witnesses. The judge or jury will then decide whether or not the liable party is responsible for the damages caused. Going to court can be intimidating, but having the right attorney on your side can make all the difference.
At the Granite Law Group, we understand how devastating an injury can be, and we want justice for our clients. We are dedicated to fighting for your rights and getting you the best outcome possible. Our experienced attorneys can help you understand your rights and determine if you have a viable claim. Contact us today at (603) 883-4100 for a free consultation and let us help you pursue justice and compensation for your injury.
Client Reviews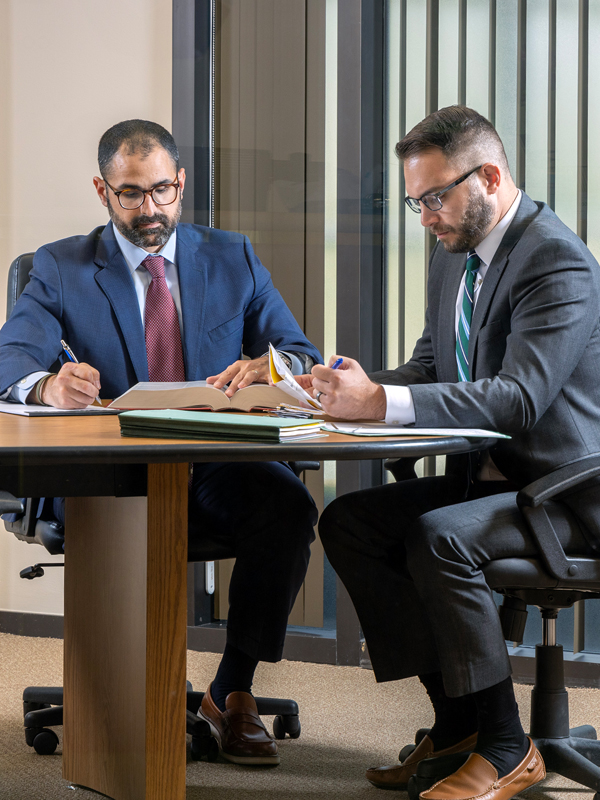 Contact Us
Fill out the form or call us at (603) 883-4100 to schedule your free consultation.