Catastrophic Injury Lawsuit: A Voice for Victims Suffering Debilitating Injuries
One misstep, one reckless move, and your life could be turned upside down in a moment. Every year thousands of individuals suffer from catastrophic injuries resulting from accidents, acts of violence, or illnesses that can have devastating and long-term effects. We are talking about those with lifelong injuries and disabilities who have seen their lives drastically change – both physically and emotionally. Many victims feel helpless, left to grapple with difficult new circumstances with no understanding of what to do next or how to move forward. At Granite Law Group, we shine a light on their stories of courage and resilience in the face of such immense tragedy – as our goal is to help them reach brighter horizons in spite of their misfortune.
A catastrophic injuries suit can be a powerful tool for victims to seek justice and obtain compensation for the physical, emotional, and financial damages they have suffered. Taking legal action can help victims find their voice and empower them to reclaim control over their lives. We will dive into what a catastrophic injuries suit is, the benefits it can offer, and how victims can access it.
Defining a Catastrophic Injury Suit
Injury lawyers file catastrophic injury lawsuits on behalf of victims who have suffered permanent, debilitating injuries. By definition, a catastrophic injury is a physical or mental damage that restricts a person's employment and other activities for the rest of their life. These injuries are exceptionally painful and difficult to recover from and can permanently decrease the quality of a person's life. Unfortunately, such life-changing events are experienced all too often, with car crashes, explosions, physical assaults, slips & falls being a few of the leading causes of catastrophic injuries.
They often lead to complications that require expensive medical care and treatment for an extended period. Often, damages caused by the negligence or intentional wrongful act of another are permanent injuries – like an unsafe construction site that leaves a worker paralyzed. As a result, this is a driving factor in an award of general damages. Granite Law Group lawyers can help victims seek justice and financial compensation in the form of a structured settlement from a negligent party to help them with medical expenses and other losses related to their injury.
Who Can File a Catastrophic Injury Lawsuit?
We represent clients suffering from a variety of catastrophic injuries at Granite Law Group. These can include spinal cord injuries, brain injuries, nerve damage, amputations, paralysis, internal bleeding, permanent disability, birth injuries, head injuries, loss of sensation, loss of motor functions, and more. Let's explore many of the different types of catastrophic injured:
Spinal cord injuries can cause permanent damage to the bundle of cells and nerves that sends and receives signals from the brain to and from the rest of the body.
Brain injuries are traumatic injuries to the brain. Such a term does not include brain dysfunction caused by congenital or degenerative disorders, nor birth trauma, but it may consist of brain injuries caused by anoxia due to near drowning or other external force.
Nerve damage refers to an injury occurring to a person's nerves — usually resulting from cutting the nerve, too much pressure on the nerve, or stretching the nerve.
Amputations include a part, such as a limb or an appendage, that was severed, cut off, or amputated (either completely or partially), ranging from fingertip amputations to medical amputations resulting from irreparable damage.
Paralysis can result from an injury to the spinal cord, causing the victim to lose their ability to move or control part of their body.
Internal bleeding occurs when a blood vessel ruptures and blood leaks inside the body.
Permanent disability is a physical or mental impairment that diminishes a worker's ability to perform everyday activities.
Birth injuries can be caused by medical malpractice, resulting in harm to an infant as they are born.
Head injuries are injuries to the head and include concussions, contusions, intracranial hematomas, and skull fractures.
Loss of sensation can manifest as numbness or loss of feeling in a part of the body. Numbness can occur along a single nerve on one side of the body or symmetrically on both sides.
Loss of motor functions may result from diseases of the muscle itself, diseases of the area where the muscle and nerve meet, or diseases of the nervous system such as nerve damage, spinal cord injury, or brain damage.
In all these cases, it is crucial to consult an experienced injury attorney to determine your legal rights and options – Granite Law Group is eager to fight for your case.
Seeking Representation for Catastrophic Injuries Lawsuits
Injury lawyers are the advocates of the injured, and their expertise in the field of catastrophic injuries is essential in helping victims receive fair compensation. At the Granite Law Group, we understand the serious, long-term consequences of these injuries, and our attorneys will fight to ensure you receive the best possible outcome. An injury lawyer can review the details of your case to help determine if you have a viable claim. For example, suppose you can prove that another person's negligent actions directly resulted in your injuries – like an unsafe construction site where a worker falls and becomes paralyzed on the job. You can not only recover compensation for your pain and suffering, medical bills, ongoing treatment expenses, medication, adaptive equipment, and lost wages, but also for your overall decreased quality of life and emotional distress.
Granite Law Group's experienced injury lawyers are committed to fighting for justice for the injured. We understand the physical, emotional, and financial toll these injuries take on individuals and their families. We strive to provide our clients with the best legal representation possible when a catastrophic injury occurs. Let us be your voice — If you or someone you love has suffered a catastrophic injury, contact one of our experienced injury lawyers to learn more about your legal options by calling (603) 883-4100.
Client Reviews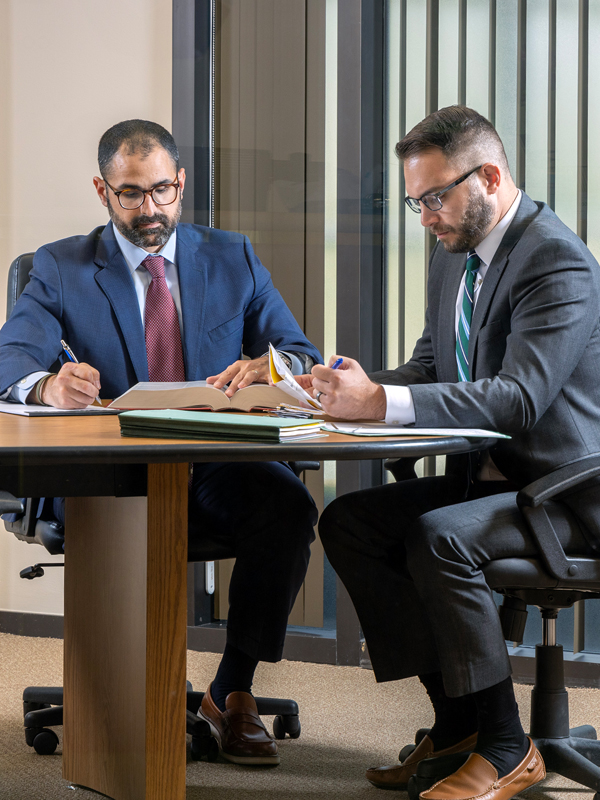 Contact Us
Fill out the form or call us at (603) 883-4100 to schedule your free consultation.