Negligent Discharge & Firearm Related Injuries: a Discussion Part Four
This discussion is part four in a series that I am nicknaming "Monday are Gundays". Over the next several Mondays, I will continue this discussion. We will discuss negligent discharge, firearm-related injuries and fatalities, firearms and children, and the laws regarding guns, especially in cases of negligent discharge, in both Massachusetts and New Hampshire. We encourage you to post comments. These articles are for informational purposes only and do not represent the views or opinions of the Granite Law Group, its staff, or its clients.
Part FourA Discussion of a Selection of Injuries Caused by Guns
Every year there are numerous gunshot related fatalities and injuries. A study by the CDC discovered that during the time period of 1993 through1998, an estimated annual average of 115,000 firearm-related injuries (including 35,200 fatal and 79,400 nonfatal injuries) occurred in the United States. While death by firearm is a tragedy, the purpose of this blog is to focus more on the survivors of gunshot wounds and to highlight the ongoing and often permanent injuries a gunshot wound victim may sustain. A significant number of these injuries are sustained through negligent discharge of a firearm. The National Shooting Sports Foundation Information Services found that in 2000 there were 776 deaths and 23,237 non-fatal injuries caused by firearm-related accidents in the United States.
There is a tremendous societal cost to gunshot wounds. One national study published the Journal of the American Medical Association estimated the total annual medical cost related to gunshot injuries at $2.3 billion dollars. Various literature estimates hospitalization for gunshot victims to average between $13,000 and $25,000 per patient. A further study discovered that 56% of gunshot victims were unemployed, 79% were uninsured, and 68% were substance abusers. Often saddled with debilitating and disabling injuries, most gunshot survivors would continue to be a burden on society relying on social programs for their well-being. Prevention is the best course of action to reduce these numbers and the societal cost of gunshot injuries.
Anatomy of a Gunshot Wound
There are three zones of injury in a gunshot wound. The first zone is the tract where the bullet actually entered and/or exited the body. This is known as the permanent cavity. This cavity is created from the actual crushing of tissue that is directly in the bullet's path. The second zone of injury is known as the contusion zone and affects the muscle tissue that is adjacent to the bullet's path. Lastly, the third zone is known as the concussion zone. This area has been affected by the shock waves produced during the impact and cavity creation from the first zone. This damage is often distant from the area where the bullet impacted.
There are also four categories of entrance bullet wounds: contact, near contact, intermediate and distant wounds. Contact wounds, characterized by blackened and seared margins, are created when the muzzle of the gun is up against the body at the time of discharge. Near contact wounds, when the gun is a short distance from the body, are characterized by a wide zone of gunpowder soot surrounding the seared blackened skin. Intermediate wounds are categorized by a tattoo on the skin of gunpowder. Distant wounds, often in the case of negligent discharge, are caused when the gun is a distance away from the body.
Additionally, bullets are known to carry infection. Despite being fired, the bullet is not sterilized during its explusion from the barrel. When it comes into contact with a human being infection can spread. There are documented cases in the medical literature of fatal meningitis occurring after a bullet has hit the spinal cord as well as many other infections. Patients treated with antibiotics had a significantly lower infect rate (2.3%) compared to those not treated with antibiotics (13.9%) following a gunshot wound.
Fragmenting Bullets and Tissue Disruption
A study done on live animals back in the 1980s showed that fragmenting soft point bullets caused more tissue damage than nonfragmenting bullets such as solid brass bullets. Full metal-cased bullets which are typically considered nonfragmenting and consist of a copper jacket and lead core were shown to fragment when at the velocities used in the study. The soft-point, or hollow-point bullets are most commonly used in hunting. Wounds from these bullets caused an exit wound of 12.5cm whereas the nonfragmenting bullets caused an exit wound of only 2cm. The study confirmed that the expanding soft-point bullet caused more tissue disruption and damage. Broken or deformed bullets were also shown to cause large exit wounds. The nonfragmenting military style bullets could cause significant damage if they hit a bone, hit a hard object before entering the body, ricochet or had been altered.
Lead Poisoning & Toxicity
When one thinks of lead poisoning, one often thinks of a child who has been exposed to lead paint in an old apartment building. Decades ago there were thousands of cases and lawsuits dealing with children and lead poisoning. It is rare to think of gunshot injury victims as also having a high risk of lead poisoning. However, there is an estimated 1-2 million U.S. residents who are gunshot survivors with retained bullets and many thousands more are being added yearly so it is imperative to look into the effects of retained bullets and bullet fragments and clinically test for higher lead levels in the blood of these survivors.
Many bullets are made of lead. Some are encased in copper, aluminum, nickel or steel but with a lead core. The bullets and shotgun pellets most encountered by the US civilian population are 50 to 100% lead. When a bullet is retained in the body, it is very common for the lead in the bullet to leech out. This occurs over time and it may be months or years before the lead levels in the body reach dangerous proportions. Most cases only come to medical attention because the symptoms disable to patient. Of those patients with retained bullets in their body, fewer than 100 cases of lead toxicity have been reported in medical literature. These cases have demonstrated a variety of lead induced toxicity issues including joint deterioration, as seen above, and death.
A study published in the American Journal of Epidemiology suggests that bullet fragmentation and bone fracture contributed to the elevated blood level concentrations. The effects of bullet fragmentation have been discussed above. A corroborating article about bullet-induced synovitis and osteoarthritis confirmed the link between retained bullets and lead poisoning.
In a study published in 2007 by the Journal of Medical Case Reports, it was determined that the belief that intraarticular bullets should not be removed was not beneficial and often resulted in long term complications. The study focuses on a thirty-eight year old male who had been shot in the hip ten years prior. He presented with severe hip pain that had been progressing over the past two years and worsening significantly in the last six months. X-rays of his hip demonstrated a bullet fragment inside the hip joint and severe degenerative arthritis. Additionally there was extensive synovitis, or inflammation, in the degenerated acetabulum. Additionally, lead deposits were seen in the synovium.
Lead exposure from bullets left in the body continues to be a problem for gunshot wound survivors. Symptoms of systemic lead poisoning can include headache, nausea, fatigue and abdominal pain. Exposing the synovial fluid to a leaded bullet leads to rapid degradation of the bullet thereby allowing the body to absorb the lead causing local and systemic lead poisoning symptoms. According to the article, two factors responsible for the dissolution of the lead bullet fragments in the synovial fluid are the presence of hyaluronic acid and the pH of synovial fluid.
Additionally a retained bullet can also produce a foreign body reaction, which is an inflammatory or immune response to a foreign object in the body. It can also produce mechanical articular cartilage damage and synovitis. These can lead to destructive arthritis often requiring a joint replacement and additionally the systemic absorption of lead.
Joint damage may occur from other factors besides the residual bullet fragments in the body. The initial trauma of the bullet may cause fractures of the articular bone surface. This causes the surface to be rough and uneven. The rubbing of these uneven surfaces against each other in the normal usage of the joint can contribute and accelerate joint destruction. Another consequence of the impact of a bullet and a bone is that the articular cartilage, bone and bullet may fragment thereby creating intraarticular debris that can erode joint surfaces. A third scenario consists of if the bullet embeds in the bone and extends into the joint thereby destroying the cartilage.
The article in the American Journal of Epidemiology also noted that a swallowed bullet or bullet fragment would also show elevated lead levels which would slowly decrease after being passed through the gastrointestinal tract.
As discussed above, retained bullets are often fragmented. In the study, 69.2 percent of the retained bullets were fragments. Fragments were especially prevalent in cases where the bullet ricocheted or struck hard tissues such as bone or teeth. Blood lead concentration increased by 25.6% with the number of retained bullet fragments. Surgical removal might therefore be the most beneficial to these patients. Absent surgical intervention, there is currently no other treatment methods available to reduce the lead levels in the blood of gunshot survivors.
Fragmented bullets in the torso area have the highest incidence of lead absorption likely due to exposure of a large volume of extracellular fluids. Instead of being encapsulated by scar tissue, bullet fragments in the torso area and more likely to being absorbed into the fluid. This is compounded if the injury involved a bone fracture.
Traumatic Brain Injury
Twelve percent of all traumatic brain injuries are attributed to fire arms. In urban areas, gunshot wounds to the head have been the leading or second leading cause of traumatic brain injury. Gunshot wounds to the head incurred through assault or accidental discharge result in a smaller chance of death and better outcome than those delivered through a suicide attempt or self-infliction. Thirty-five percent of all traumatic brain injury deaths can be attributed to gunshot wounds to the head. Ninety percent of all gunshot wounds to the head result in death.
Brain injuries have far reaching effects. The victim may no longer be able to be self sufficient or function normally. The family of the victim is often quite affected as well as they learn to adjust. Even a mild traumatic brain injury can have far reaching effects. Often the person might look normal on the outside but not be the same person they were before the injury. Because their injury is not readily apparent, many people, including close friends and family, often become frustrated because they expect the injured person to act and respond the same as they did prior to the injury but they are unable to because of the deficits caused by the traumatic brain injury. Worst still, some victims of brain injury are aware of their deficits often leading to frustration and depression as they cope with the loss of their former self.
If you or a loved one has suffered a brain injury, from a firearm accident or other injury, do not hesitate to call the Granite Law Group for a free consultation.
Our firm also handles cases involving negligent discharge. Call us today for a free case evaluation.
Client Reviews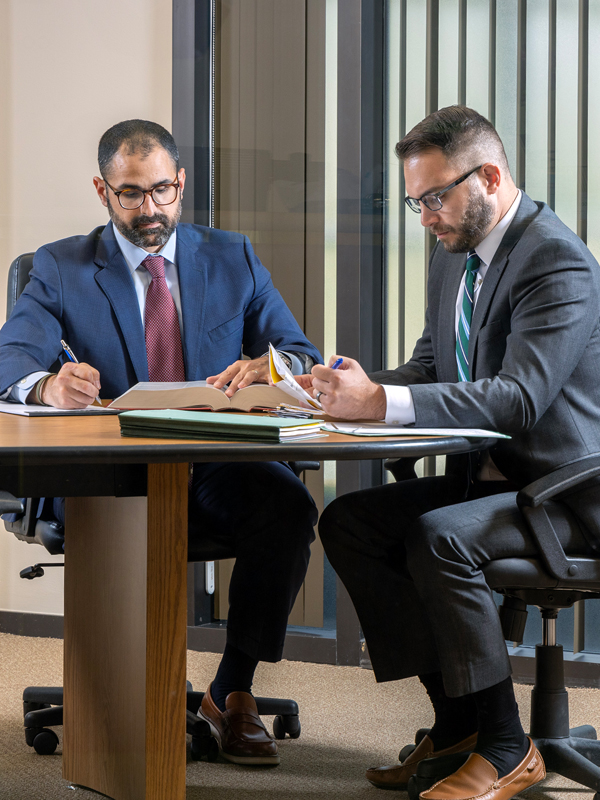 Contact Us
Fill out the form or call us at (603) 883-4100 to schedule your free consultation.