Personal Injury Protection (PIP): How it Works
Personal Injury Protection benefits, also known as PIP, is included as part of any Massachusetts auto insurance policy but what exactly is it and how does it work? This article will help de-mystify some of the workings of PIP and help you understand how it works and how you can claim your PIP benefits.
Massachusetts is one of seventeen states that mandate PIP coverage. Other states include Delaware, Florida, Hawaii, Kansas, Kentucky, Maryland, Michigan, Minnesota, New Jersey, New York, North Dakota, Oregon, Pennsylvania, Texas, Utah and Washington. As our firm is licensed in Massachusetts and New Hampshire, we will for the purposes of this blog focus only on PIP benefits in Massachusetts.
No Fault Insurance
Personal Injury Protection benefits are known as "no-fault" insurance coverage. That means that if you are in an accident, you are entitled to make a claim for your PIP benefits irrelevant of whether or not you or your vehicle was the cause of the accident.
What it Covers
In general, PIP benefits cover medical bills, lost wages, and replacement services arising out of the accident. A replacement service is defined as expenses incurred to pay non-family members to perform services that the injured person would have performs had it not been for the accident. An example of this might be child care or cleaning services.
PIP gets more complicated when it comes to medical bills. If the claimant has private health insurance then PIP will pay the first $2,000 in medical bills. Subsequent bills will be billed to the health insurance. Any co-pays, deductibles, or other out-of-pocket expenses that the claimant incurs after health insurance has paid can be billed back to PIP for reimbursement. If the claimant does not have private health insurance, has health insurance through an ERISA plan, Medicare, Medicaid or other public plan, then PIP will pay up to $8,000 in medical bills. Bills must be incurred within two years from the date of the accident. Additionally, at any point, the insurer may request that the claimant submit to an Independent Medical Examination (IME). This is a medical exam by an independent doctor who will decide if the medical treatment to date was reasonable and necessary and whether or not future medical treatment is required. If the doctor finds that future medical treatment is no longer required then PIP will refuse to pay any further medical bills even if the claimant continues to treat.
PIP will pay 75% of lost wages arising out of the accident. However, the claimant cannot double dip. If the claimant is also eligible for a disability plan, PIP will only pay 75% of the difference of what is left after the disability plan pays out.
PIP will pay for replacement services as well, as described in the first paragraph of this section. It is our experience, however, that this is rare.
Irrelevant of whether or not it is medical bills, lost wages, or replacement services, the total PIP benefit will only total $8,000.
PIP Deductibles
Now as more and more insurance companies try to cut rates to entice new customers, many "choose your own insurance plan" companies are short-changing customers by allowing them to purpose policies with a PIP deductible. Most individuals do not understand the ramification of this deductible and instead focus on the great premium rate they are receiving. However, when they are in an accident, they then find themselves in for a nasty surprise. A PIP deductible is in essence stating that you are self-insuring yourself. That means that you are solely responsible for the first $8,000 of medical bills and lost wages. Your health insurance will not pay a penny until that deductible has been reached.
Additionally, if you were not at fault and you proceeded with a claim against the other party who caused the accident, their insurance company would automatically deduct $8,000 for their award for your damages so in essence you would be out $16,000.
PIP and 3rd Party Claims
PIP benefits are subject to subrogation. To understand this better, here is an example. You are in an accident. You make a claim for PIP benefits from your insurer and you receive $8,000 in benefits. You make a claim against the other insurer and get an award for $20,000. You then have to pay your insurer back for the $8,000 they already gave you because you already received that money. At the end of the day you still received $20,000, $8,000 from your insurer and $12,000 from the other insurer. However, instead of you having to pay back your insurer, the insurance companies "subrogate" amongst themselves and therefore the 3rd party carrier will often make an offer that has already deducted the amount that PIP has paid. So that insurer might value your case at $20,000 but make an offer of $14,000 if PIP already paid you $6,000.
How to Obtain Your PIP Benefits
First, you need auto insurance coverage which includes PIP benefits and is not subject to a PIP deductible. If you are then in an accident, you first need to inform your insurance company that you were in an accident. You have a duty to cooperate with your own insurance company in order to receive these benefits. You do not have a duty to cooperate with the insurance company of the person who caused the accident. Before giving a statement or dealing with the other insurance company it is always best to contact a lawyer.
Once you have reported the accident to your insurance company, the insurance company will send you several forms in the mail. One form will be the Personal Injury Protection Benefits Application. This application asks for information about the accident, your injuries, where you have received medical treatment, and any lost wage information. You will also be required to sign a medical authorization form, sometimes also known as a HIPAA form, so that the insurance company can obtain copies of your related medical records and bills in order to coordinate payment. If you are making a lost wage claim you will also be required to sign an authorization allowing your employer to release your wage and salary information.
Depending on your case, your insurer may subject you to an IME, as we discussed above. Your failure to attend this appointment may result in an automatic termination of any future PIP benefits. It is therefore important that you work with your insurer to coordinate and attend this appointment.
You may also be required to give a formal statement under oath about the accident. This is known as an examination under oath or EUO.
PIP: The Simple Way!
The world of Personal Injury Protection Benefits can at times be confusing. Coordination is required between the auto insurer, the health insurance, and the third party insurance company. If you were involved in an auto accident in Massachusetts and deemed not at fault, our attorneys can help you coordinate your PIP benefits, set up your PIP claim, and assist you with your claim against the at-fault driver/parties. With attorney representation, you will save yourself countless hours on the phone with your auto insurer and health insurance company and medical providers. Our office will coordinate everything including sending and receiving the PIP checks to the correct medical facilities and tracking payments.
Contact a Massachusetts Personal Injury Attorney at the Granite Law Group today for a free case evaluation and to learn more about how our attorneys can help you maximize the compensation you deserve.
Note: This article is for informational purposes only. For legal advice, please contact an attorney at the Granite Law Group.
Client Reviews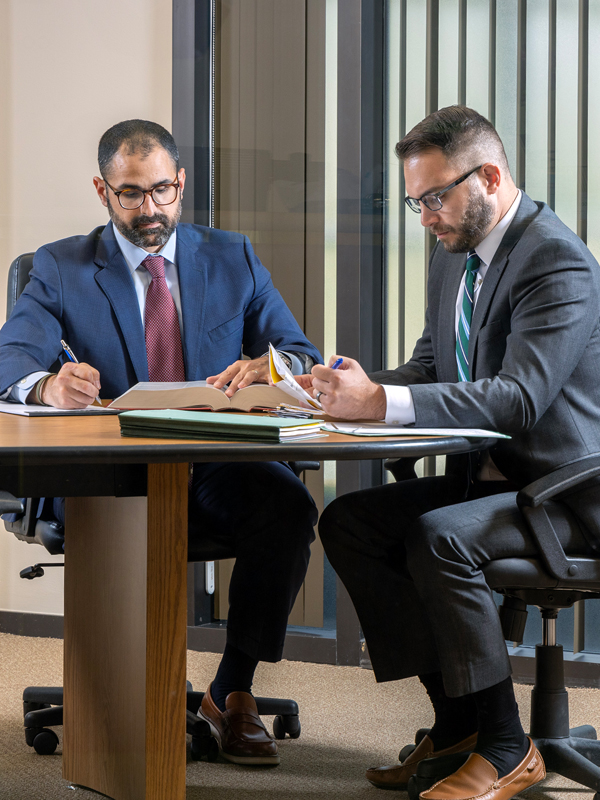 Contact Us
Fill out the form or call us at (603) 883-4100 to schedule your free consultation.