Timing Is Everything: How Highway Motorists Are Being Placed in Danger
Back on June 7, 2014, at 1:00 am comedian Tracy Morgan and other passengers in his car were severely injured when a Wal-Mart truck failed to brake and slammed into their vehicle on the New Jersey Turnpike. One of Tracey Morgan's friends was killed in the crash.
An investigation revealed that the Walmart truck driver had been driving for nearly 14 hours (shift limit) and hadn't slept in the last 24 hours. The driver had 28 minutes to get to his destination. If he didn't reach the destination in time, he would have to stop and rest. He tried to push through – money was on the line.
Given Tracey Morgan's celebrity, the fatal crash brought the issue of highway safety and the trucking industry back on the national agenda – perhaps it should have always been.
Here are the facts according to a US Department of Transportation (DOT) study: Nearly 4,000 people die every year in crashes involving trucks and just over 100,000 people are injured. While studies vary, the official consensus is that 13% of the crashes involving trucks are caused by fatigued truckers.
The Federal Motor Carrier Safety Administration (FMCSA) places regulations how long truckers can drive. These are known as Hours of Service (HOS) rules:
Truckers must have 10 consecutive hours off duty before starting a shift;
A shift can't last more than 14 hours, out of which only 11 can be spent behind the wheel;
A maximum of 60 hours driving during a seven-day window is permitted;
A maximum of 70 hours driving during an eight-day window is permitted; and
Drivers must "restart" their 7/8 day week with 34 hours off duty.
Because schedules and routes differ, the "restart" period is supposed to simulate a weekend of rest.
Why are these regulations put in place? Besides the obvious safety concerns (remember that scene from the movie "Hoffa" where Danny DeVito stays awake behind the wheel by allowing his cigarette to burn down to his fingers?) there are financial incentives to drive longer and further. According to the American Trucking Associations (ATA), 50% of regional drivers, 55% of nationwide drivers, and 48% of independent contractors are paid by the mile.
On July 1, 2013, a more restrictive HOS rule went into effect which requires that the 34 hour "restart" period must include two consecutive 1:00 am to 5:00 am periods of rest (opposed to one 1:00 am to 5:00 am period in the earlier version). Ostensibly, a trucker must have at least two consecutive nights of sleep before restarting their week. This makes sense – the more rested a trucker is the safer he will be.
In justification of the HOS rule, an independent study was conducted involving 106 drivers who were examined over the course of six months/415,000 miles. The drivers were given wrist monitors to track their alertness and sleep patterns. The trucks were also equipped with devices which detected lane drifting. According to the study, the two consecutive nights of sleep requirement would prevent 1,400 crashes and save 19 lives annually. The logic was empirically corroborated.
Sounds like a modest restriction to mitigate a catastrophic collision with an 80,000 lb. 18 wheeler right? Well, the American Trucking Associations (ATA) went ballistic. They claimed the law decreased productivity by taking their truckers off the road. Specifically, ATA projected that productivity would decrease by 2-3%. The truckers themselves are angry too; the majority of them are paid by the mile and every hour they are not on the road is money being taken out of their pocket.
Moreover, the ATA claimed the study was flawed and forced more trucks to drive during morning rush hour which they argued is more dangerous. But wouldn't you prefer a well-rested trucker driving during rush hour than an exhausted trucker driving at night?
The ATA focused their attention on Capitol Hill and commenced lobbying efforts (the trucking industry spent nearly $7.5M in lobbying in 2014). Enter Sen. Susan Collins (R-Maine) who is a friend to the trucking industry. Sen. Collins received $95,000 in campaign contributions during the last election cycle from the trucking industry including such donors as FedEx Corp.
Sen. Collins was instrumental in drumming up bi-partisan support for an amendment to the HOS rules contained in the Omnibus Appropriations Funding Bill for the 2015 Fiscal Year. The amendment rolls back the two consecutive night sleep provision until September 30, 2015. As it stands, a trucker needs to have only one 1:00 am to 5:00 am rest period within their 34 hour "restart". During the roll back, more studies will be conducted to further explain the link between trucker fatigue and the proposed rule.
While a lot of attention is being placed on the "restart" period provision, what is not being discussed is that Sen. Collins' amendment also increases the 70 hours of driving time to 82 hours within an eight day period.
The amendment passed in the Appropriations Committee and became part of the much larger Omnibus Appropriations Bill. Ironically, two days later, Tracey Morgan's friend was killed by a Wal-Mart trucker who hadn't slept in 24 hours. In December Sen. Cory Booker (D-New Jersey) urged Congress to strip the provision, but up against another government shutdown, it was too late. Congress approved the Bill containing Collins' amendment on December 11, 2014 and it was signed into law on December 16, 2014 by Pres. Obama. Timing is everything .
Are we being too harsh on the truck drivers? Are we hurting the economy with these regulations? Well, an ATA study showed that truckers earn anywhere from $46,000 – $73,000 median pay depending on what type of trucking industry they are in. 80% of the private companies offer 401(k) plans with employee match. As a point of reference, the average median income for a US household is $53,000. In fairness however, truckers typically work 70 hours a weeks opposed to 40 hours a week which reflects the average US household figure.
Reasonable people can all agree that both highway safety and the economic growth are important to our communities and the country as a whole. But haven't we seen too many examples human life taking a backseat to corporate profits?
With respect to the truckers, has anyone ever thought that perhaps they should get paid a little more so they don't have to drive 70 hours (now 82 hours) within eight days just to make ends meet? The trucker who hit Tracey Morgan's vehicle worked for Wal-Mart. The last time I checked the company had $467B in revenue last year. Three out of the top ten richest people in the world are named Walton – each is worth about $40B. I don't think it would break their bank to pay their drivers a little better, and protect us all .
If you or someone you love has been injured in an accident involving a truck, contact an experienced trucking accident attorney at the Granite Law Group for a free consultation.
Client Reviews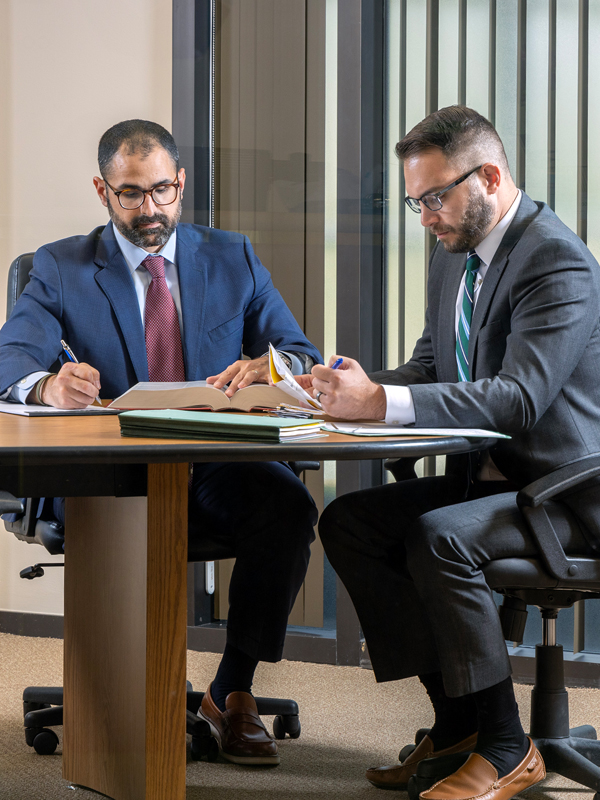 Contact Us
Fill out the form or call us at (603) 883-4100 to schedule your free consultation.